Facials are a great way to rejuvinate the face and to unwind! Following is a simple, but thorough at home Facial. Treat yourself to a full spa facial today!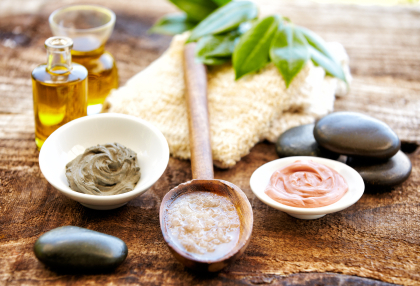 What will I need?
Clean towels
Cleanser
Bowl  or facial towels for steaming
Herbs for steaming (optional).
Face scrub
Toner
Moisturizer
Step 1: Cleansing to remove dirt.
Before you start, it is best to cleanse the skin thoroughly. Use cleansers such as:
Aloe Vera Powder mixed with water–  In your palm, combine 1/2 tsp of Aloe Vera Powder with a little water to create a paste.  Gently rub the paste in small circular motions. Wash your face with tepid water and pat dry.
Aloe Gel–  Massage aloe vera gel into damp face and wash face with tepid water and pat dry.
Aritha/Soapnut  or Shikakai Powder tea– Massage the tea into face for 20 seconds.
Soapnut/Shikakai  'mud'– Apply mud to face by gently massaging.  Wash off very well with tepid water and pat face dry.
Honey–  Massage  1/2 tsp of honey in circular motions all over your face. Wash  with tepid water and pat dry.
Shampoo or Body Bar:  Create bar lather in your palms with a little warm water and massage foam into the face.  Wash your face with tepid water and pat dry.
Rhassoul Clay Powder/Mud– Blend Rhassoul Powder with water to create a paste, or use premixed Rhassoul Mud.  Gently massage Rhassoul  Mud into the face for 15-20 seconds. Wash your face with tepid water and pat dry.
Tip:  Cleanse the face in the shower for a cleansing and steaming experience.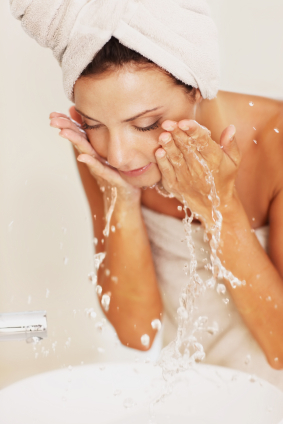 Step 2.  Steaming to open the pores for better cleansing.
If you aren't washing/steaming your face in the shower, there are two ways to 'steam' the face. One method involves pouring boiling water into a bowl, leaning over the bowl and covering the head and bowl with a towel for 10 minutes.   The second method involves wetting clean facial towels in the hottest water you an stand, wringing them out and applying them to the face for 5 minutes, re-wet the towels, then repeat the process.  Those with sensitive skin should only steam for 5 minutes.
Tip: Toss in a handful of fresh or dried herbs into the water for a lovely smelling steam!
Step 3:  Exfoliating to remove dead skin cells.
Exfoliating helps  to remove the dead, dry skin cells  to reveal brighter, fresher skin. For a sample of natural Exfoliating recipes, follow this link. Those with sensitive skin should choose a gentle exfoliator such as Rhassoul mud or Oatmeal.
Step 4: Face Masque for deep pore cleansing.
Face masques are fantastic for cleaning out the pores. Natural face masques can consist of fruits, vegetables, Yogurt, clays, honey, Aloe Vera Powder or gel, and a myriad of different ingredients and combinations. Please check out the previous blog posts "Do it yourself Face Masques" and "Facial Masques".
Step 6:  Toning to close the pores and remove residue.
Toners will remove reside, soothe the skin and shrink the pores.  Please read the article "Natural Toner Recipes" for more information.  Allow the toner to dry on the face before moisturising.
Step 7: Moisturize to seal moisture into skin.
Moisturizers seal moisture and protect the skin. Moisturize the skin with the oil of your choice or a simple moisturiser.  An easy recipe for moisturiser is  1/2 TSP aloe gel and a few drops of oil.   Organic Golden Jojoba Oil is best for oily skin, while Olive is prefect for those with dry skin.  Choose Organic Camellia Oil if you have normal skin. Aloe vera gel is also a great light moisturizer on its own. To incorporate essential oils, please read the article "Essential Oils For Hair and Skin".
Enjoy!