Ever wondered what a beautiful white wedding dress would look like with henna? I've had the opportunity to do henna for several brides wearing white and trust me, it looks amazing. The balance of henna against white is just too stunning to deny.
Mariah incorporated traditional henna into her wedding from her Trinidadian roots for her wedding day. In Trinidad it's common for both Indian and Muslim communities to get henna done when they get married. It's part of the beautification process that includes getting your hair and makeup done. Ideally getting the henna done at least 2 days before the wedding is best. Her henna came out beautiful and really dark.
You may notice that Mariah has what looks like two tones of henna stain. There is henna and there is also jagua in her designs. Basically, two mediums were used to give her a two tone affect (which I personally am so loving right now).
Henna will always stain a natural reddish brown whereas jagua paste (aka hengua) stains a black stain. Both are all natural and made by us at Henna Sooq.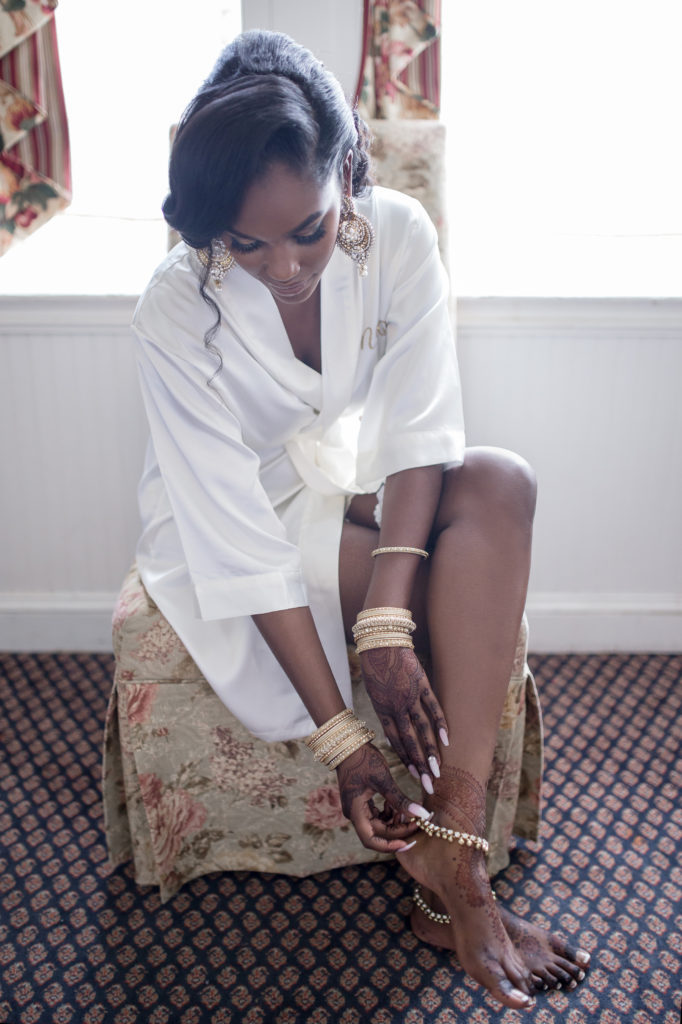 Mariah adds the final touches by placing gold anklets on. She's beautifully flawless.
Through an act of pure love, respect and humbleness, her husband gently pours warm water over her feet and gently washes them.
This act is a symbol of unity, intimacy and the spiritual bond between husband and wife. So beautiful!
So when you think of white wedding dresses, think of just how gorgeous henna looks on white. You can contact our booking line at 443-254-0736  to book your weeding. We even offer free consultations including a sample henna design for your bridal henna.