Thank you to EVERYONE for their patience and support during this time. The customer appreciation sale also went really well!
Even though during this time my grandmother passed away and we tried our best to keep up with everyone, and their orders, it was a tough time…
I also wanted to make a note that some of our orders have been mishandled by USPS as soon as they cross over the border. It seems that some orders have just disappeared on both us and Canada Post. So we open traces with Canada Post, and try to find out what has happened. We will make sure to send you another package, if you have not yet received your first order. Canada Post has mentionned that there is a peak in this happening right at this time, and they say USPS haven't been too much of a help in the matter. I know they are telling the truth, because in all of my years doing this work, most of my problems have always been with orders that have gone to the USA and somehow USPS loses them or maybe customs does something with them. I can't even be sure and not even Canada Post knows. 
On February 1st we attended the Suhaag 10th anniversary wedding show. They had a lot of vendors, and an amazing fashion show!
Here are some shots of  my favorite vendors and moments.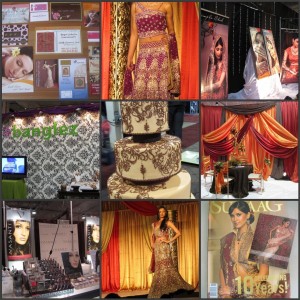 Since the Suhaag wedding show, I had the opportunity to have a meeting with the very talented Dimple Shah. She is an extraordinary woman. Her business sense is amazing, and she is very upfront and honest. I look forward to working with her in the future, and hope to see us at our Henna Chai 2009 event.
Above: Henna Sample Design done on my by Dimple Shah