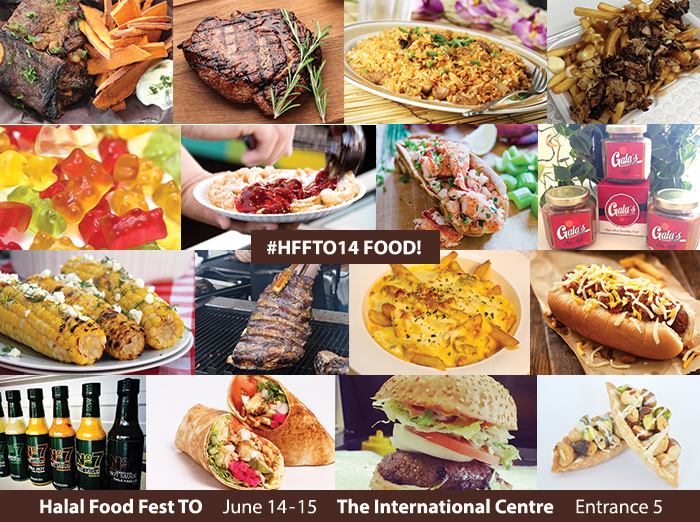 Toronto's Halal Food Fest is this weekend! June 14-15, 2014 at the International Center, Hall 5 located at 6900 Airport Rd., in Mississauga, Ontario.
We're pleased to announce that Henna Sooq Canada will be on location at Booth number 336, and our manager Fatma will be available for your local pick up orders, and product enquiries/orders.
Deadline for local pick-up orders to be placed online at www.HennaSooq.ca is Friday June 13th 10pm EST.  Please include a note with your order that says pick up at International Centre/Halal Food Festival.
Festival Areas
Due to last year's tremendous success, this year's Halal Food Fest is bigger than ever.  They have moved to a bigger building and we can't wait to get there!
Halal Food Fest Toronto will be spread out over 150,000 sq ft of indoor and outdoor fun! There are 7 festival areas with many activities for you to enjoy all day long!
Sample City
Over 100 food sampling stations for you to experience as soon as you enter the festival doors. Purchase sampling coupons from one of our kiosks – $10 gets you 20 coupons. Redeem 1-2 coupons for a sample! With dozens of different food vendors offering savoury and sweet items from a variety of cuisine styles – this is the heart of the festival and where you definitely want to be! Dairy Farmers of Canada will be on site hosting several free customized cheese tasting seminars where they've uncovered some hard to find halal types of cheese!
Shops at Halal Food Fest
After you've had your fill, saunter down the aisles of our Shops and pick up some unique items while you're making room for more delicious food. Our Shops have something for everyone; from clothing to books you'll find many unique and quality products and services.
Community Stage
Grab a seat at the Community Stage and watch one of many seminars, cooking demonstrations and competitions being hosted throughout the day. Curious about gluten-free baking? Want to learn how to mix the hottest mocktails? Then you need to stay close! Aside from information, each seminar will have giveaways and/or yummy samples! Check out the schedule for all seminars and their timings!
 Main Stage
Live discussions with our Chef's Panel as well as scholars from the community covering the topics you want to learn about.  Master Shaykh competition and comedy!
The Food Court
If you're looking for more of a fill, then you must check out our food stalls selling their unique assortment of meals both savoury and sweet! The perfect spot for lunch and dinner with ample seating.

Street Fest
Head outdoors to our Halal Food Fest TO Street Fest and enjoy even more food vendors grilling up the best halal food in Toronto. You won't want to miss our halal version of Rib Fest or the first ever Grill Master 2013 Competition hosted on our outdoor stage! We also have live cooking demonstrations and so much more!
Sysco Street Fest Stage

Outdoor street festival stage will host grilling competitions and tips and live performances by Mustaqeem and Tae Kwon Do with Energy Athletics
Kids Zone
No event would be complete without something for the little ones and the little ones at heart! Kids Zone is a large 3,000 sq ft area with large jumping castles, an obstacle course, live entertainment, characters and more! Inside we have a special "Baby Lounge" — a comfortable place for changing diapers and a cozy and private spot to nurse.
Shout out to Henna Sooq Canada Manager: Fatma Nurmohamed
Full-time wife and mom to three children. Fatma also works in dental hygiene, as director of N-ti Canada Inc, Canadian representative and distributor for Henna Sooq Canada, creator and owner of Hijabpins Canada. Experience in running bazaar at Reviving the Islamic Spirit for over 5 years and Muslimfest for 3 years.
Have an amazing weekend everyone!! Eat something yummy for us 🙂