Our trip to Trinidad and Tobago is right around the corner. I'm so excited! There is so much to see and do.
We have a Henna Workshop scheduled for October 9th along with henna body art sessions (we have a few spots available). We recommend you book as soon as possible to 443-254-0736 or Khadija@HennaSooq.com.
I look forward to all the photo possibilities of henna, beauty and the natural surroundings of the islands. Will you be one of our models?
Our workshop is ideal for beginners. No experience needed. We'll be going over all the fundamentals of henna, mixing your own henna paste, applying henna body art and every attendee receives a body art design.
I'm especially looking forward to my meet up with Aneesa Karim whose henna body art designs are so gorgeous. You can find her on Facebook and on Instagram.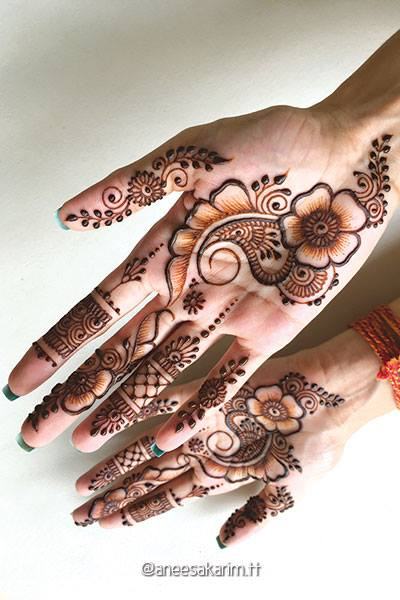 I thank her for this list of must to do's in Trinidad and Tobago.
"As for the adventuring for the couple days, once the weather isn't too bad (it's supposed to be rainy season), we can check out some these places:
Lots of things to do here, including a secluded, but very popular cove called Macquripe, walking/biking/hiking trails, ziplining, etc. There are a couple of restaurants we can check out in the area too. This is to the North West of the island.
There's the capital – Port of Spain – many great restaurants there, and a mix of old and new architecture around the Queens Park Savannah; The Emperor Valley Zoo, Botanical Gardens, etc.
There are a couple other beaches along the North coast we can check out if you would like to do more beaches – Maracas (for it's popular delicacy of shark and bake), and Las Cuevas, one of the country's protected turtle nesting sites.
Boat tours in the swamp usually take place on evenings from 4 p.m to
6 p.m.
It a tour of a protected wetland area where you can see a number of species of mangroves, birds, snakes, and other swamp creatures.
Great for bird watching and chilling in the North East
There are a few majids we can check out, a couple along the highway around Charlieville.
There's a beautiful one in the old capital, St. Joseph, on the grounds of my old primary school – it is an iconic landmark.
Mount St. Benedict – great lookout point, not too far from St. Joseph.
There are also a few temples we can visit – The temple in the sea (one of the most well known in Trinidad), and the Dattatreya Temple that is home to an 85ft. Lord Hanuman statue. These are in Central Trinidad.
Petrotrin (off the Gasparillo flyover) – at night, you can see an interesting light show from the flares of the oil refinery.
To the South, San Fernando is the second largest city, and you can see most of it at the top of San Fernando Hill.
Suggested food/drink to try, not in any particular order:
1. KFC from the airport (Piarco Intl) – no where in the world does KFC taste like ours 😉
2. Doubles – curried chick peas served with deep fried bread (bara) – A staple street food of T&T
3. A cold coconut water – straight from a coconut
4. Corn soup
5. Local Bar-b-que
6. Local curry – buss up shot, curried potatoes and chicken or duck
7. Curried crab and dumpling (try Store Bay – Tobago)
8. Pelau – rice with meat and vegetable
9. Fish broth – you can also have this in Tobago
10. Callaloo, red beans or lentils, macaroni pie, stewed chicken, boiled provisions – a typical Trini Sunday lunch!
11. Chow – mango, pineapple, plum – popular street snacks
12. Indian delicacies – aloo pie, pholouri, saheena (deep fried stuff)
13. Peanut Punch – milky drink
14. Sea Moss – milky drink
15. Mauby – drink
16. Local chocolate – some of the finest in the world
17. Oil down – a type of well seasoned soup with breadfruit, coconut milk, callaloo leaves and meat (predominantly)
18. Pepper sauce – Fact: Trinidad has the hottest pepper in the world – the scorpion pepper (try at your own risk!)
19. Saltfish buljol and fried bake – a breakfast dish
20. Local ice cream – soursop, peanut, coconut, etc."
Now there is a list of 20 places to eat at. Like how am I going to fit that all in?! I also definitely need to buy me some Trini pepper sauce as it's the BEST I've ever had.
I just can't wait to create beautiful henna on the islands of Trinidad and Tobago. You must follow us on
Instagram
to watch our story and live feeds for all the latest there.